Two Lung Cancer Patients' Lives Saved at Miami Transplant Institute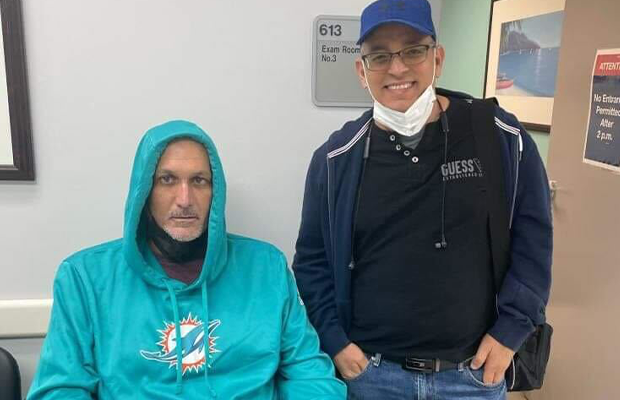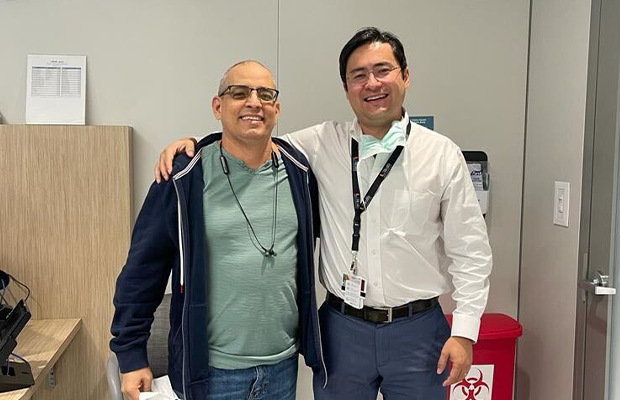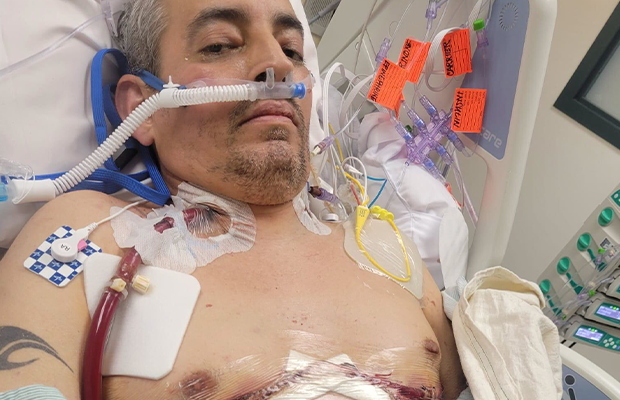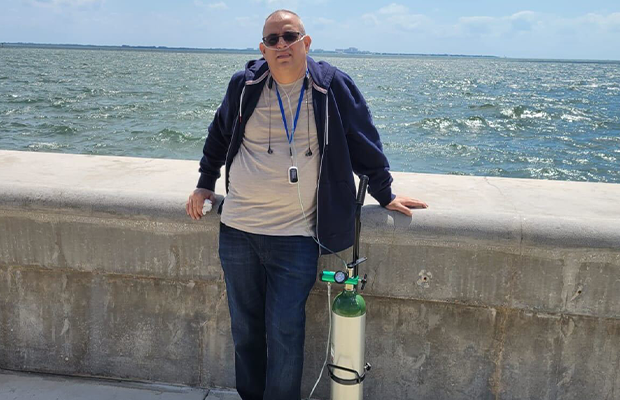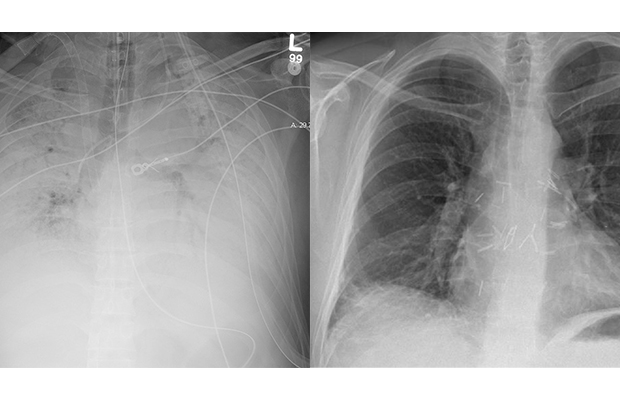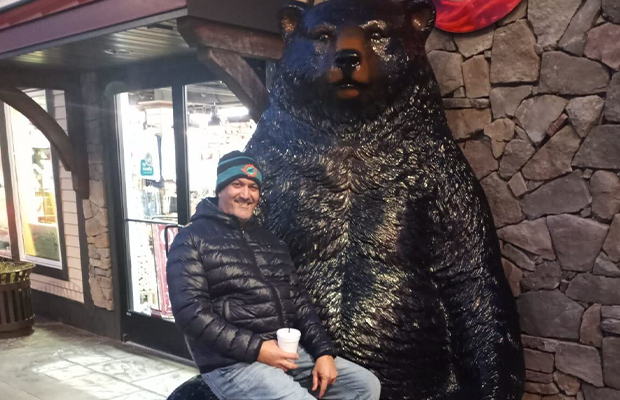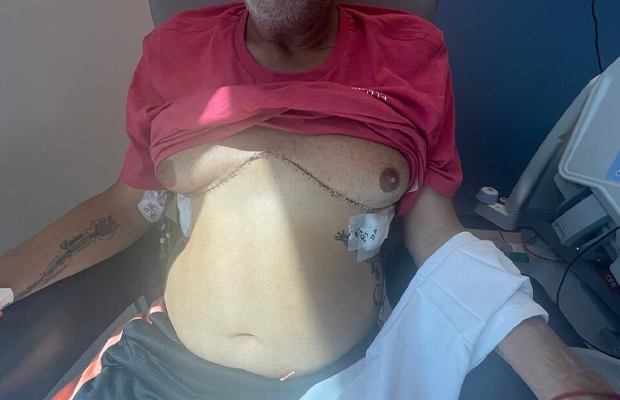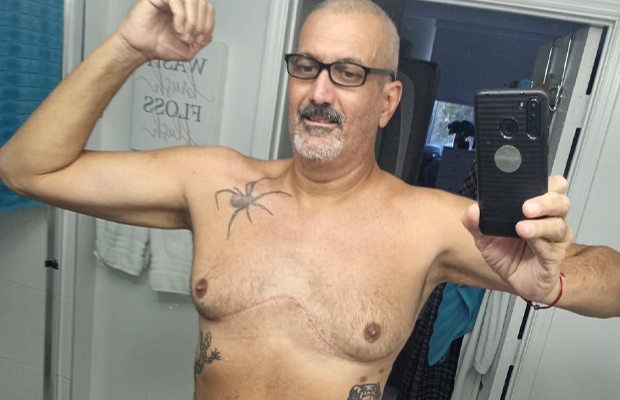 By: Krysten Brenlla
Yoel Gutierrez, 48, and Marcial Rodriguez, 49, have a special connection – without Gutierrez, Rodriguez would not be alive today.
The two were the first lung cancer patients to receive successful double-lung transplants at the Miami Transplant Institute, an affiliation between Jackson Health System and UHealth – University of Miami Health System.
According to the American Cancer Society, lung cancer is the leading cause of cancer-related death among men and women in the United States, accounting for about 1 in 5 of all cancer-related deaths. In addition, transplantation is rarely an option for lung cancer patients – especially for those with a stage 4 diagnosis, or cancer that has metastasized.
Transplantation is possible for cancer patients who meet specific criteria, which includes exhausting all other treatment options.
Groundbreaking Double-Lung Transplants: Where It All Began
Gutierrez has seen many immediate family members, including his mother and cousin, pass away due to pulmonary fibrosis, a disease that affects the lung tissue. Although Gutierrez knew it was a possibility he could develop the illness, he lived a normal and healthy life – until he contracted COVID-19 in February 2021.
"When I got COVID, I passed it at home," Gutierrez said. "But I had a small worry that with me catching COVID, it could lead to developing pulmonary fibrosis, so I told my wife to take me to a pulmonologist to check out my lungs."
Upon seeing the pulmonologist, his lungs became a cause for concern. Pulmonary fibrosis was showing up in Gutierrez's X-Rays, along with several unfamiliar white clouds.
"By October, my oxygen was dropping dramatically, and I was feeling really tired and short of breath," Gutierrez continued. "That's how I ended up at Jackson."
Gutierrez was discharged after one week with a pneumonia diagnosis. However, the fatigue, chest tightness, and shortness of breath kept getting worse, and he went back to the hospital several times for treatment. His oxygen levels plummeted, and he needed at least five liters of supplemental oxygen to breathe.
By April 2022, Gutierrez's condition continued to worsen, and it became evident that the only chance he had of survival was a double-lung transplant.
He was referred to MTI, and by May, the transplant team agreed that Gutierrez was eligible for lung transplantation due to the rapid progression of his pulmonary fibrosis.
"When Yoel got to us, he had to be rushed to our intensive care unit (ICU) and placed on extracorporeal membrane oxygenation because of how short of breath he was," said Tiago Machuca, MD, PhD, director of the Lung Center at MTI and a professor of clinical surgery at the University of Miami Miller School of Medicine. "When we saw this patient, fighting for his life in the ICU on maximum support, we knew we had to transplant him."
After spending 12 days on the transplant waitlist, the surgical team performed a successful double-lung transplant on May 18, and Gutierrez received his second chance at life.
However, after careful pathological assessment of his original lungs to confirm his diagnosis, an unexpected finding unfolded: Gutierrez was not suffering from pulmonary fibrosis, but stage 4 lung cancer.
"Before the transplant, we did a bronchoscopy and attempted to find a definitive diagnosis for Yoel, but we couldn't find one," Dr. Machuca said. "We felt he had pulmonary fibrosis because of his family history and the results of his genetic testing, but the cancer was mimicking the fibrosis in its appearance, and it was completely isolated to just the lungs, so transplantation was a possibility."
The Patient Who Changed the Course: Double-Lung Transplants for Lung Cancer Patients at MTI
Gutierrez's groundbreaking surgery led the transplant team to save Rodriguez's life – and this time, they had a definitive diagnosis.
"The beginning of last year, I was getting really tired and suffering from shortness of breath. As the year went on, the symptoms were getting worse," Rodriguez said. "Before starting a new job, I got a physical done, and the results showed that my oxygen levels were extremely low."
Rodriguez's primary care physician knew something was wrong with his lungs. He was referred to Jackson West Medical Center for lung X-rays and a biopsy.
The biopsy results confirmed that Rodriguez had advanced stage lung cancer on his right lung.
"I wasn't thinking when they told me that," Rodriguez continued. "I remember asking, 'OK, what do I do now?' I was ready to fight."
By July 2022, Rodriguez's health declined rapidly. His girlfriend at the time, Guevis Jimenes, rushed him to the emergency room at Jackson Memorial Hospital with severe hypoxia, or low levels of oxygen, looking for anything that could help him breathe again.
"Guevis was really the one who pushed me to go to the emergency room," Rodriguez said. "Without her, I don't think I would have made it."
At that point, cancer treatments were not successful. With little hope, and in critical condition in the ICU, Rodriguez was referred to MTI to review his eligibility for a double-lung transplant.
"Marcial's form of lung cancer was so unique and very similar to Yoel's – it was like a pneumonic-form of cancer that started to take over his lungs," Dr. Machuca said. "He was receiving the standard of care from his oncologists, however, his lungs weren't responding; in fact, his disease progressed."
The transplant team noted that the cancer had not spread outside of the lungs, just like Gutierrez. The team knew what had to be done to save Rodriguez's life.
"When we saw Marcial, we asked ourselves, 'Regardless of his cancer diagnosis, would he be a transplant candidate?' And based on Yoel's experience, the answer was yes," Dr. Machuca said.
On August 19, the transplant team found a perfect match for Rodriguez. Eight hours later, he received a successful double-lung transplant.
"One of the biggest risks of lung transplantation for patients with lung cancer is the possibility of the cancer spreading during surgery," Dr. Machuca said. "For us, we want to make sure we're doing what's best for the patients and making the best use possible of the gifts of life from the donor organs. We were extremely careful to ensure there was no spillage in the bronchial or chest cavity for either of these patients, and we were successful."
After spending two weeks in the ICU at Jackson Memorial, Rodriguez underwent inpatient rehabilitation therapy at Christine E. Lynn Rehabilitation Center for The Miami Project to Cure Paralysis at UHealth/Jackson Memorial. He gained back the 53 pounds he lost, and began to feel like himself again.
He was discharged on September 15, and went home to his family with a new set of lungs and a new lease on life.
Although Gutierrez and Rodriguez had never met before, Rodriguez knew that Gutierrez ultimately saved him. Recently, they finally met at Jackson during a post-operative consultation appointment.
"When I met Marcial, and he told me he was alive because of me – I started crying," Gutierrez said. "I saw Dr. Machuca a few moments later, and he told me that I was the first patient who received a double-lung transplant after having cancer, and because of me, they're operating on other people with cancer."
"I want to thank everyone who was involved with my care at Jackson and at MTI. They helped me gain this new life, and I wouldn't be here without them," Gutierrez continued. "This has been a miracle from God."
Because the outcomes were successful, Dr. Machuca and his team are developing a new set of protocols for treating lung cancer patients at MTI.
"I don't have any words for the team at Jackson or for Yoel," Rodriguez continued. "Thanks to them, I have my life back."
For more information on the Lung Center at MTI, visit https://transplant.jacksonhealth.org/lung-center/.