Organ Donor Options
Many people with two healthy kidneys can donate one to a patient in need.
While you only have one liver, you can still donate a portion of this organ, which typically grows back to a size that provides normal liver function.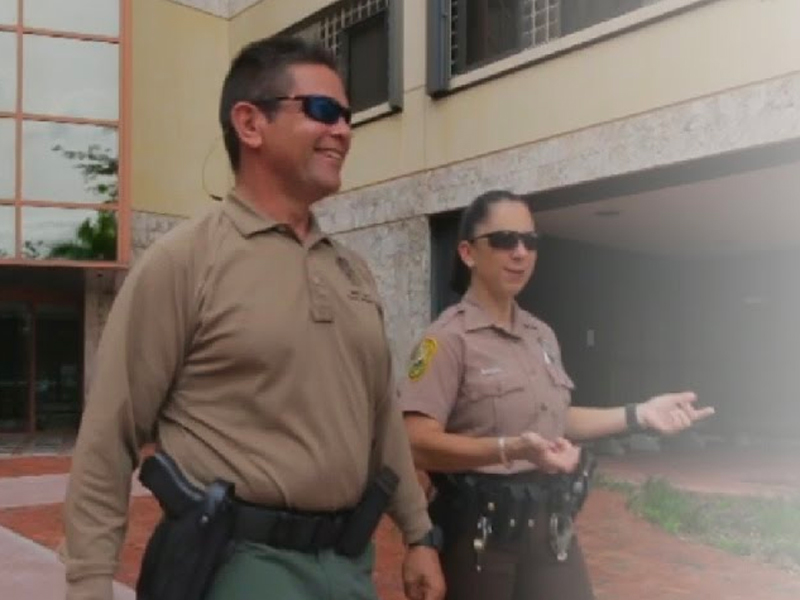 Living Kidney Donor Program
The gift of life is closer than most of us think.
Most transplanted organs come from a family's selfless organ donation after their loved one has died. Unfortunately, far more people need organ transplants than the number of organs recovered from people who have passed (also known as deceased donation). In fact, at any moment in time, more than 117,000 individuals are waiting for an organ transplant.

Fortunately, some organs, like kidneys, can be donated by a living donor without negatively affecting the donor's health. The Miami Transplant Institute's Living Kidney Donor Program—also called the gift that keeps on giving—is the largest in Florida and the fastest-growing in the Southeast. In fact, patients from anywhere in the nation and anywhere in the world can participate in the initiative.


Paired Kidney Exchange Program
Even when a family member or friend's kidney is not a match, a suitable living donor may still be a viable option. That's because we can match willing donors for one patient with willing donors for another patient.
Our Paired Kidney Exchange Program is the only initiative of its kind in the region, and offers real hope to patients whose family and friends have the will to help, but are not a clinical match.
Description
Paired Kidney Exchange Program
Even when a family member or friend's kidney is not a match, a suitable living donor may still be a viable option. That's because we can match willing donors for one patient with willing donors for another patient.
Our Paired Kidney Exchange Program is the only initiative of its kind in the region, and offers real hope to patients whose family and friends have the will to help, but are not a clinical match.
Why donate?
Statistics have shown that living donor transplants result in:
The best long-term success rates
Lower rates of rejection
Considerably less waiting time for recipients
Those are the benefits for the individuals receiving the organs. But what can you can gain by donating? Or what would you lose?
In short, you have much to gain:
The donation of a kidney does not change your life expectancy nor increase your risk for kidney failure.
You help meet the demand for transplants, which far outweigh the availability of the organs.
You can continue to live a healthy, active lifestyle.
You do not need to change your diet, exercise, or activities.
You will be giving someone the gift of life.
The Kidney and Pancreas Division at the University of Miami/Jackson Memorial Hospital is ranked in the top 5% over the last 10 years for graft and patient survival as well as the volume of patients done.
How do I know if I am able to donate?
Candidacy:
Individual 18 – 65 years of age.
Immediate and/or extended family member or emotionally bonded significant other
Good general health.
Willing and able to participate both physically and emotionally.
Identifiable support system
Transportation
Exclusion:
1. Morbid obesity (BMI > 40)
2. Hypertension
3. Diabetes Mellitus
4. Evidence of current severe medical condition that would place the patient at risk.
5. Current alcohol or drug use.
6. Active infections including HCV and HIV/AIDS
7. Current psychiatric or psychological pathology
What else should I know about kidney donations?
All testing is done as an outpatient
There are no costs to the donor for evaluation, surgery, or immediate post-operative care
Recovery time is 2 to 6 weeks
No heavy lifting for 6 weeks
Women can become pregnant after kidney donation
Surgery is 3 to 4 hours
Hospitalization is 3 to 4 days
How do I begin the donor process?
Phase 1- Referral
Step 1: Screening
An initial 20-minute screening questionnaire (by phone or in person) will be conducted to assess past medical, surgical, social and family history. We will screen up to three potential donors for each recipient at a time.
Step 2: Blood Testing Insert
Blood Type
Genetic Typing
Cross-match
Local donors are tested at Transplant Center and out-of area donors will FedEx blood for testing against recipient.
We use these blood tests along with your medical history to determine which candidate is the "best match" for the recipient. You will be notified by our donor team as to whether you have been chosen as the "best match" to enter Phase II of the donor evaluation. You will be asked whether you wish to proceed with further workup for kidney donation.
Your complete medical work-up is confidential and will not be shared with the recipient. If at any time during the process you should decide not to donate, simply notify us. The donor team will give you a confidential "opt-out", no questions asked without consequences. Our team will then inform the recipient for you. Your medical evaluation will remain confidential at all times.
Phase 2: Evaluation:
Your testing is designed to further determine your medical and psychological candidacy as a live kidney donor. This process can generally be completed within two to three working days. You will attend a group educational class to explain the donation process. In addition, our medical nephrologist and team will independently discuss the risks, benefits and alternatives with you.
Your testing will include the following routine tests/evaluation:
History and physical exam by a medical nephrologist or surgeon
Lab (blood) tests
Urine sample for evaluation
Stool sample for evaluation
Quantiferon Gold Test (Tuberculosis blood test)
Chest x-ray and abdominal film
EKG
Mammogram (women> 40y, strong family history or breast mass)
Gynecological exam (Pap smear/pelvic) – all females
Psychological/Social evaluation
Spiral CT scan
You may be required to complete further evaluation (diagnostic tests, specialty medical consultation or laboratory studies) depending on your age, underlying health status and/or test results. Additional evaluation, if required, will obviously extend the process.
How is my surgery determined?
Once the donor surgeon has reviewed your medical work-up and the spiral CT scan and determined that no further testing is required, we will schedule your surgery. We will need to work with the recipient coordinator to find the next available, mutually acceptable date for both you and your recipient.
Once a date for surgery has been agreed upon, we will schedule you for Phase 3 (the Final Phase of the donor evaluation).
This includes the following evaluations:
Final Medical Clearance (with nephrologist)
Surgical Clearance (with donor surgeon)
Anesthesia Clearance (pre-operative evaluation). This will include any updating any labs (blood, urine, crossmatch) and/or diagnostic testing (Chest x-ray and EKG) required.
Occasionally, during testing and even in the final phases of evaluation, we diagnose an underlying medical condition which may disqualify you as a donor. If this should occur, we will notify you and provide you with a letter and a copy of your medical records. You will then need to follow up with your primary care physician for further evaluation and potential treatment.
If you are unable to be a live kidney donor due to an underlying medical issue, your own medical insurance will need to cover these expenses.
Living Donor Kidney Transplant Preparation
Where do I stay?
Accommodations near the medical campus include:
Transplant House
Jackson Towers
1500 NW 12th Avenue, 7th floor West
Miami, FL 33136
Phone: 305-585-1500
E-mail: Dmiller3@med.miami.edu
Marriott SpringHill Suites Miami Arts/Health District
1311 NW 10th Avenue
Miami, FL 33136
Phone: 305-575-5300; toll-free: 800-228-9290; fax: 305-575-5301
Web: MiamiSpringHill.com
Should you require additional housing options, please discuss your needs with your transplant social worker.
What do I bring?
Bring a goodie bag ready with essential toiletries.
Do not bring valuables, plants or flowers, or visitors under the age of 14 years.
What happens the day before surgery?
In the morning, on the day before your scheduled surgery, you will be asked to go to the Tissue Typing Lab to give blood for the final crossmatch with your recipient.
If this test demonstrates that you are no longer compatible with your recipient, we will need to cancel your surgery at the last minute.
You will receive further instructions on diet and preparation.
Remove your jewelry and leave your valuables for safe keeping at home. Bring only minimal belongings such as some clothes to change into when you are discharged home and a few toiletries.
What happens the day of surgery?
If the cross match results are satisfactory you will be admitted to the hospital at 0600am on your scheduled surgery date.
You will be taken to the pre-op area where you will be able to greet your loved one.
The operating room nurses, the anesthesia staff and surgeon will give you a final check before surgery.
You will then be taken into the operating room where we will start your surgery.
In the next room, another surgeon will start surgery on your loved one in preparation to implant the new kidney. Both operations will occur simultaneously.
Your surgery will last about four hours. You will then spend another couple of hours in the recovery room.
After anesthesia has safely worn off, you will be transferred to our general surgical ward.
Where do I go before and after surgery?
Day before Surgery- LABS
Located at:
University of Miami Rosenstiel Building (RMSB) Tissue Typing Lab
1600 NW 10th Ave, 8th Floor, Room 8161
Miami, FL 33136
(305) 243- 4556
Parking located next door at:
Park Plaza West
1611 NW 12th Ave
Miami, FL 33136
Accessible through NW 12th Ave and NW 16th Street
Day of Surgery- ADMITTING:
Once confirmed for transplant, proceed to Holtz admitting located at:
1611 NW 12th Ave
Miami, FL 33136
Parking is available at Park Plaza West. Follow side walk East and Northeast to Holtz admitting.
OPERATING ROOM
You will be transported to the operating rooms located in the Diagnostic Treatment Center.
GENERAL SURGICAL WARD:
Main hospital to the right in the West Wing.
Post Op Expectations and Instructions
What should I expect for recovery?
After donating a one kidney, the other will grow and compensate allowing the donor to live a full, active life. You must allow ample time to recover from surgery. Most people return to light activity immediately after surgery. Abdominal gas and bloating is common and even some shoulder pain but usually dissipates in a few days. There may be some incisional discomfort. Loose clothing is recommended. No lifting more than 10 to 20 pounds is allowed for 6 to 8 weeks. By this time the incision should be healed and you will be less likely to get a hernia. Walking, stair climbing and light activity is allowed during this time. Driving is prohibited until you have stopped taking all pain medicines and your surgeon permits you to resume driving. You may shower after the first couple days but you should avoid full immersion in the tub for about a week. Your wound will be closed with dissolvable sutures beneath the skin and skin glue.
Is there a post-operative follow-up?
You will be scheduled for a follow up visit with your surgeon about one week after discharge (about two weeks from the date of surgery). You will also get labs within two weeks after surgery so that we can monitor you. After this, you will be discharged to the care of your primary care physician. Females should wait at least 6 months for kidney function to stabilize before becoming pregnant. You should refrain from sexual intercourse for a couple of weeks until you have less pain and have regained your strength and flexibility. We advise that you not travel outside the United States until you receive clearance from our surgeons.
As part of our Long-Term Follow-up Care Plan, you will be given orders for labs to be done at 2 weeks, 6 months, 12 months and again at 24 months. You should have routine health maintenance checks yearly by your primary care physician, this should include routine chemistry, urinalysis and blood pressure checks. Please send us your results. Transplant Centers are required to report living donor follow-up information for at least 2 years after donation to the United Network for Organ Sharing. If you have specific concerns about complications related to the donation process please contact our center.