Orlando Toddler Leaves Hospital After Long Battle of Liver Disease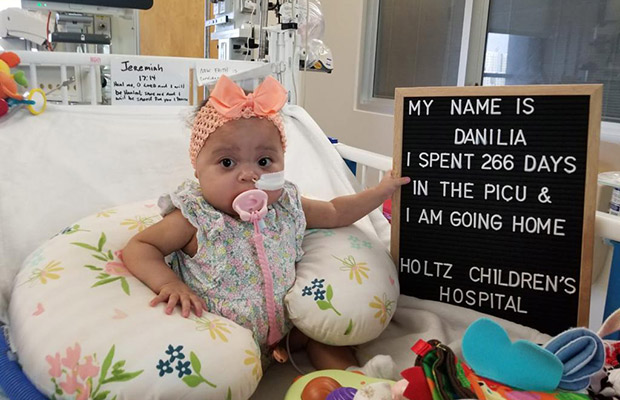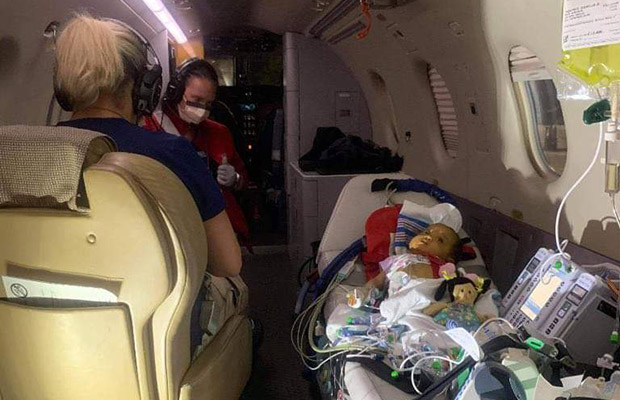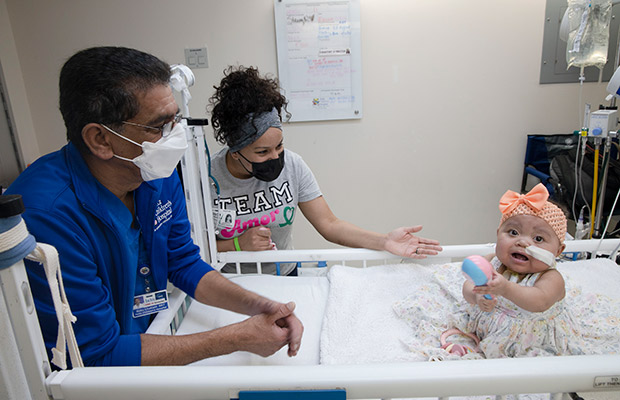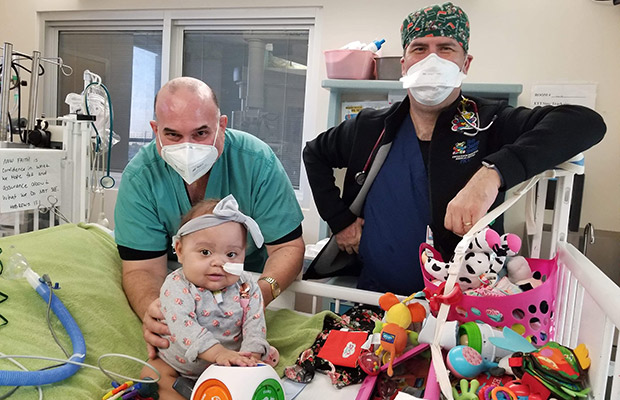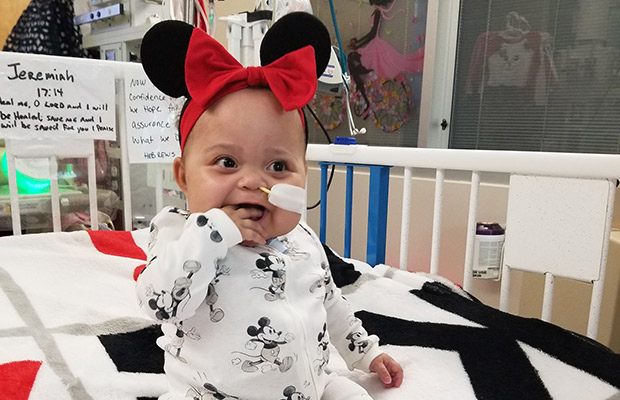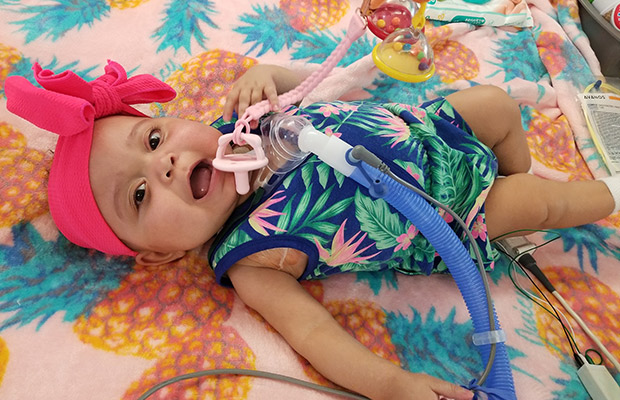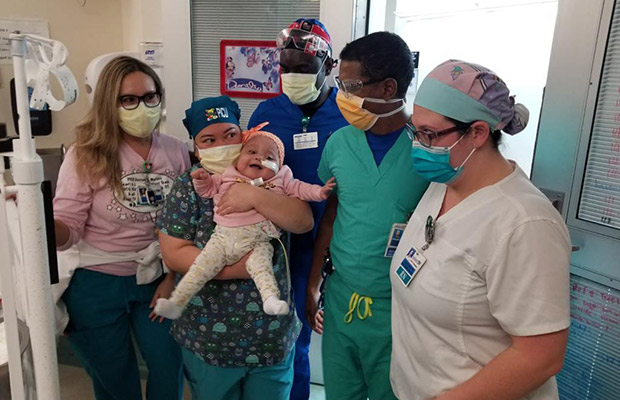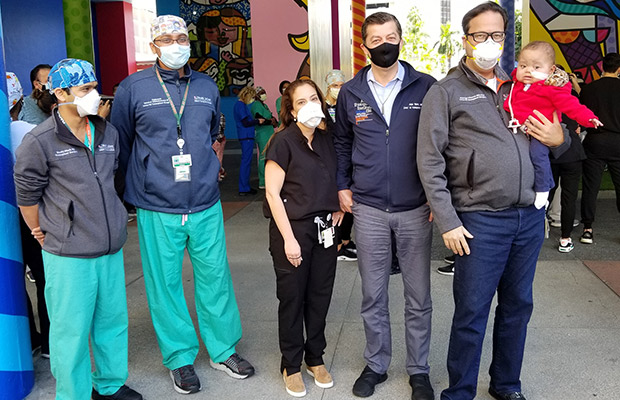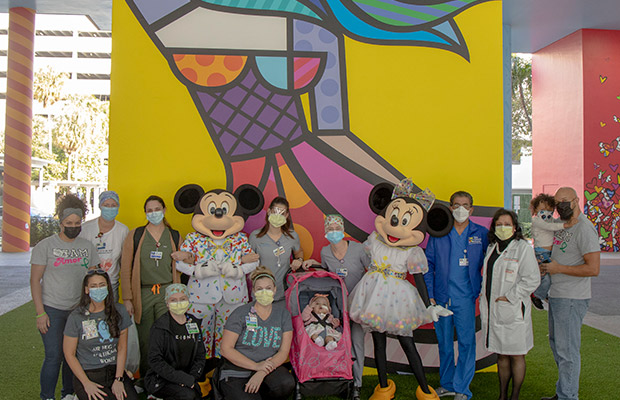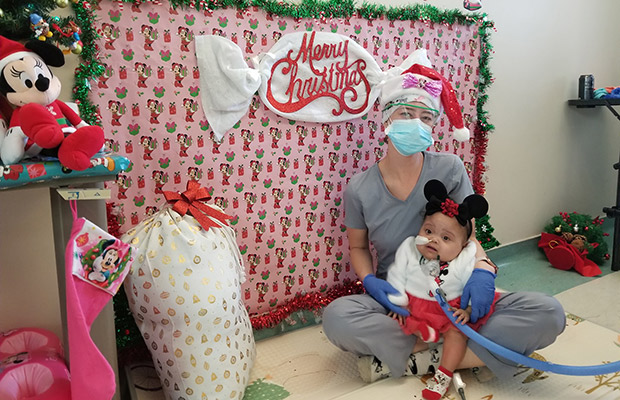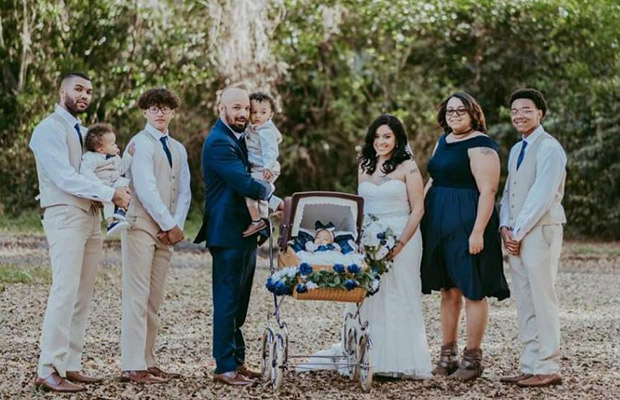 A lifesaving liver transplant gives 16-month-old Danilia a second chance at life.
When Danilia "Amor" Aquino was born prematurely at 26 weeks in Orlando on August 26, 2019, she was showing early signs of liver disease. A few months later, she was diagnosed with biliary atresia, a rare, genetic, life-threatening liver disease that only appears in infants.
The medical team at Danilia's local hospital performed the Kasai procedure – considered one of the most effective treatments of this disease – in which any problematic bile ducts outside the liver are removed, and the small intestine is attached to the liver. Unfortunately, the procedure was unsuccessful.
Danilia began to have complications and was intubated for 54 days. Her parents turned to their trusted gastroenterologist in Orlando, who advised the family to have Danilia evaluated for a liver transplant at the Miami Transplant Institute (MTI).
"None of our children have had any medical conditions," said Jennifer Cotto, Danilia's mother. "On top of the stresses of our sick newborn, the COVID-19 pandemic had just begun, and her father and I were getting married."
At the beginning of 2020, the family met with Jennifer Garcia, MD, MTI's medical director of pediatric transplant services. Danilia's parents instantly connected with Dr. Garcia and the MTI medical team, who had experience with these complex cases.
"Danilia was extremely small and undernourished as a result of not only her liver disease but her prematurity and bowel complications following her Kasai," Dr. Garcia said. "She needed total parenteral nutrition – a procedure where fluids are given intravenously to provide her with the nutrients her body would need, in hopes that this would increase her chances for transplant candidacy."
Danilia's parents returned home with their newborn daughter just nine days before their wedding – a heartwarming moment for them.
Shortly after, though, Danilia experienced an aggressive gastrointestinal bleed, common in patients with biliary atresia and liver failure. She and her father were immediately airlifted to the PICU at Holtz Children's Hospital. Once she arrived, Asumthia Jeyapalan, DO, a University of Miami Health System pediatric critical care physician at Holtz Children's, would join a multidisciplinary medical team to care for her.
"With COVID-19, we were facing many restrictions, and we were worried what would happen if a transplant patient would get the virus. There were so many unknowns," Dr. Jeyapalan said. "Are we going to find a donor? From an ICU perspective, we needed to make sure she was going to tolerate transplant surgery."
At Holtz Children's, the approach is to practice family-centered care, which enabled her parents to develop strong relationships with the medical team caring for their daughter. They also played an integral part in Danilia's recovery, working closely with support departments in the hospital, including Child Life and Music Therapy.
"I think our entire team would agree that Danilia has shown incredible resilience and strength through the many life-threatening medical hurdles she has faced," said Amanda Alladin, MD, a University of Miami Health System pediatric critical care physician in the Holtz Children's PICU. "Her parents have been steadfastly at her side and have been true members of Danilia's interdisciplinary team. We have tremendous respect and admiration for them as a family."
During Danilia's time in the PICU, her parents rotated shifts to always have someone with her. In the span of a few short weeks, she faced infections, septic episodes, intubation, was on an oscillator, and needed dialysis for her kidneys – all situations that limited her chances for transplantation.
In April 2020, she was finally listed on the national transplant list.
But shortly after, she became extremely ill. Her chance of survival was less than 72 hours.
"That was difficult to hear," recalls Daniel Aquino, Danilia's father. "I spent the whole night holding her, as I cried, not knowing if she was going to make it."
On June 16, just when her family began to lose hope, Danilia's parents received the lifesaving call that a liver was available for their daughter.
"The nurse on shift and I hugged and cried. It was so amazing," said Danilia's mother, Jennifer Cotto. "She was prepared for surgery, but we knew she was so sick going into transplant that there was a chance she wouldn't survive."
She was in multi-organ failure before the transplant: her intestines weren't working. Still, the transplant team took a chance on her.
After the 12-hour surgery, Danilia's kidneys began to fail. Her family was devastated at the thought of another transplant.
Upon further evaluation, the medical team switched her dialysis machine in favor of a smaller one meant for babies her size. Though recovery was slow, Danilia was taken off dialysis 12 days before Christmas. The family considered this a "Christmas miracle."
Slowly, Danilia's kidneys began to function properly. She began breathing on her own, her nutrition improved, and her neurological development continued to maintain itself.
After 10 long months in the hospital, Danilia was finally ready to go home.
"She's a miracle who has had to overcome many medical hurdles in her young life," said
Jayanthi Chandar, MD, University of Miami Health System pediatric kidney transplant physician. "Seeing her go home is so heart-warming. Kudos to the parents whose optimism and perseverance played a big role in Danilia's recovery."
Upon discharge, 16-month-old Danilia received a surprise visit from Mickey and Minnie Mouse outside of Holtz Children's – signaling her return to their shared hometown in Orlando.
"She's our miracle! We often questioned whether we were in the right place and if we were getting the care we needed," Cotto said. "But today proves we were exactly where we needed to be."