Grateful for a Second Chance at Life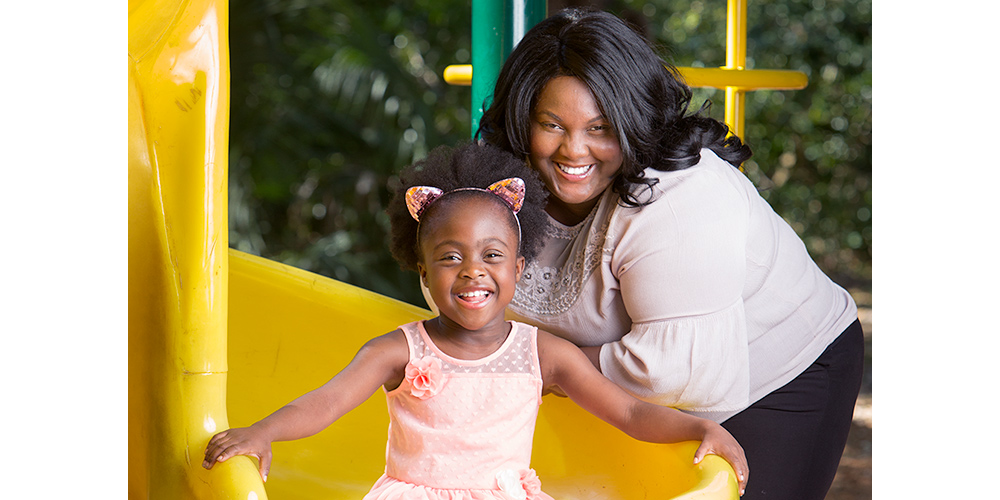 Junette Paul was five months pregnant when her intuition told her something was wrong. She hadn't felt the fetus move or kick.
After visiting a doctor and undergoing multiple tests, nothing unusual was found. Still not convinced, Paul sought a second opinion. She was referred to Holtz Children's Hospital at the University of Miami/Jackson Memorial Medical Center to be evaluated.
A multidisciplinary team examined Paul and, through an ultrasound, determined that her baby only had one kidney due to multiple congenital anomalies of her urinary tract. This congenital anomaly is the most common cause of chronic kidney disease in infants.
"Some children with congenital anomalies are at greater risk of developing kidney failure at birth," said Jayanthi Chandar, MD, a UHealth – University of Miami Health System pediatric nephrologist who was part of the medical team involved in caring for Paul and her baby. "Infants born premature are more likely to have chronic kidney disease with time."
At eight months pregnant, Paul was induced.
"At first when a nurse told me what would happen, I wasn't ready to be induced," Paul said.  "I didn't really understand what it meant that my daughter only had one kidney and thought the worse possible outcomes."
Tanisha Paul was born on June 21, 2011, and was taken to the neonatal intensive care unit (NICU) at Holtz Children's. Making matters worse, the one kidney she had was functioning at just 50 percent.
"I was crying, I didn't know what would happen," said Paul. "But the NICU staff comforted my husband and I, eased our worries, and kept us updated."
When Tanisha was discharged home after 38 days in the Holtz Children's NICU, she was prescribed medication to improve her health. Junette Paul stayed home to take care of her fragile newborn, feeding her through a gastrostomy tube (G-tube), a tube inserted through the abdomen that provides nutrition directly to the stomach.
After Tanisha's second birthday, her one kidney was failing yet again.
"Tanisha had many urinary tract infections and multiple urologic surgeries," said Dr. Chandar. "However, due to her advanced kidney failure, she began dialysis and was monitored by the pediatric nephrology team at Holtz Children's."
Tanisha began seeing Gaetano Ciancio, MD, MBA, FACS, director of pediatric kidney transplant at the Miami Transplant Institute (MTI), a unique affiliation between Jackson Health System and UHealth – University of Miami Health System.
Dr. Ciancio and the multidisciplinary team determined Tanisha needed a kidney transplant to survive and she was placed on the national transplant list.
"I was frustrated with this process since many people that knew me, including loved ones, would ask me if Tanisha was going to make it," said Paul. "But when I saw other children Tanisha's age going through the same situation, my faith returned."
Paul tried to remain positive as Tanisha remained on dialysis for two years. Then, in September 2016, while driving to church, she received the call that a kidney was available for her daughter.
"I was screaming and crying in the car, 'thank you, God'," recalls Paul. "I'd been praying for that moment!"
Dr. Ciancio performed a successful kidney transplant on Tanisha, then age 5, at Jackson Memorial Hospital on September 19, 2016. Just two days after surgery, Tanisha no longer needed the G-tube to eat. For the first time, she was able to eat normally and enjoyed pasta, yogurt, peanut butter, and fruit.
"As parents, when we look at Tanisha and see all she's been through we are amazed how brave she is," said Paul. "I tell other families going through the same thing to have faith and follow the doctors' instructions and in return, they will do everything possible to take care of your child as they did with mine."
Tanisha and her family recently celebrated the one-year anniversary post-transplant. Tanisha is healthy, no longer home-schooled, and enjoys being able to have the opportunity to live a normal first grade experience with friends.
"Tanisha tells everyone she has two birthdays – the day she was born and the day she was transplanted," her mom said. "We taught her that a donor family gave her a second chance at life that made her healthy again and that we have to be very grateful to them."